Vision
To be our customers' preferred partner for marine pumps and ship equipments globally.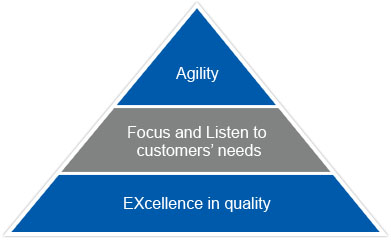 Agility
We are quick in responding to our customers, as we value all opportunities to make them our acquaintances. Our just-in-time approach in inventory management enables customers to make timely deliveries.
Focus and Listen to customers' needs
We are a focused team who listens attentively to our customers. We make sure that we have all the necessary details to ensure smooth delivery of our products.
Excellence in quality
At Aflex, we invest in continuous research and innovative improvement process to provide the best solutions to our customers. We are committed to delivering the highest level of customer satisfaction and value to all our customers.

Our staffs are our most valuable asset. Aflex's people development initiatives include regular trainings to upgrade the knowledge and skills of our staffs. Quality manpower increases the efficiency of the organisation.